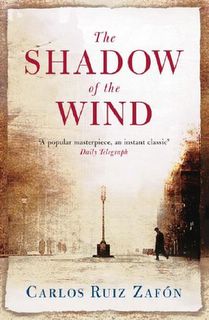 It would be a good title for a library of out-of-print Welsh novels in English. However, it is one of the features of Carlos Ruiz Zafon's novel The Shadow of the Wind, which I have just finished reading. Zafon, from Catalunya, wrote the book, his first novel, in Spanish. It is a literary mystery and love story set principally in Barcelona before, during and after the Spanish Civil War. Once you start on it you are hooked.

I first found out about it from this Lewis Jones' review in the Telegraph, but I notice later it was shortlisted as a book of the year by Richard and Judy! To be fair, they are doing for reading in the UK what Oprah has done in the US, opening up a wider range of titles to a larger audience. At the same time, of course, reading groups are taking off all over the UK.

As well as the Lewis Jones review, there's a good desciption here from the Independent. Neither of these gives the story away.

Rhondda Cynon Taff Council's library service took my photo yesterday for a feature they are running in advance of World Book Day. The book I chose was Jack Jones' Rhondda Roundabout, set in the Rhondda of the 1930s, but out of print now for years, as I said in our Assembly debate on Welsh writing in English last year.